For those wanting a solution self storage solution – TODAY! Its advanced hybrid technology with battery manages and stores solar energy, which you can save for your own personal use or sell back to grid. Your choice. Either way, you'll save on your power bills and use more of what you generate.
Hybrid Inverter:
Redback Technologies– Australian Company, based at the Univeristy of QLD
Use it. Store it. Sell it. Save.
Redback is an Australian Company, based on the University Of Qld campus in Brisbane. The University is also an investor in this company. Redback's technology and functionality is supported by Microsoft and a major "Chip" manufacturer.
Redback is a technology company focused on the development of advanced, low cost solar solutions for residential and commercial users. Redback's market leading integrated hardware and software technologies capture, store and manage solar energy, providing accelerated return on investment.
With a focus on quality and efficiency, Redback's streamlined inverter hardware incorporates power electronics, cloud system control and related switchgear into an aesthetically pleasing design, allowing for rapid integration, and thus low installed costs.
Redback's proprietary cloud based system puts power back in the hands of consumers. With the ability to analyse and control energy generation and consumption in real time, Redback affords consumers the ability to reduce energy costs, without sacrificing comfort. Best of all, Redback inverters are upgradable as new features become available, providing consumers with peace of mind.
Redback's management has over a century of experience in renewable energy generation, engineering, manufacturing, software development and energy market regulation. Founded in April 2015 and based in Brisbane, Redback Technologies is supported by the Microsoft Innovation Centre and has established alliances with leading edge partners including Sonepar and The University of Queensland to ensure high quality, innovative and feature rich products that are delivered to our customers at disruptive prices. The Redback Smart Hybrid system is affordable, reliable and accessible to everyone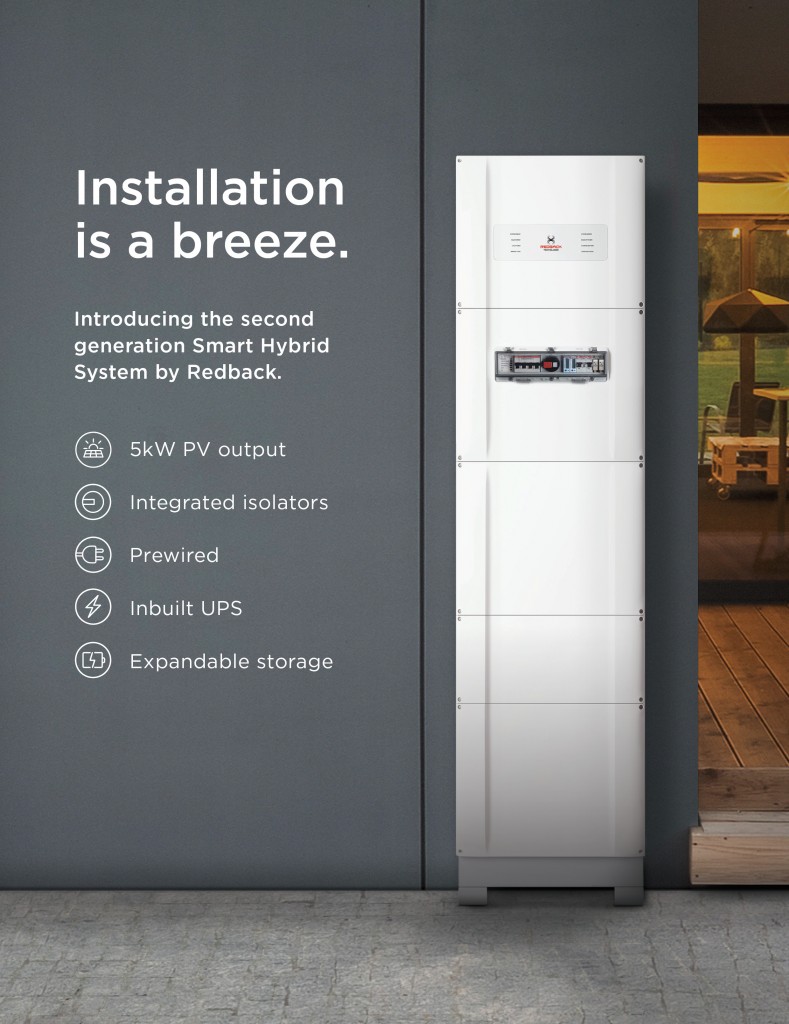 Battery Storage:
Pylon Technologies – Solar Energy Storage System
The new photovoltaic energy storage system from Pylon Technologies has more than 6000 times cycle life. This makes it perfect for daily discharge scenarios. It is a long-life solar energy storage system based on lithium ion battery technology configured with an inbuilt battery management systems (BMS).
The system provides high security configuration, anti-reverse, anti short circuit, high voltage protection and other functions to ensure maximum performance and security.
FASTEST ROI:
Larger charging pipeline consumes all energy generated by PV
Deeper DoD to save and use more energy every day
Superb life cycles ensure the lowest cost per Wh.Time
DESIGNED FOR HOME USAGE:
Smaller footprint, superior aesthetics, minimal maintenance
Modular design for easy installation and product swap
Less temperature sensitivity, can be put indoors or outdoors
HIGHEST SAFETY STANDARD:
Multiple layer protection method to ease any current/voltage/temperature risk
Intelligent BMS report and alarm any abnormal status in real time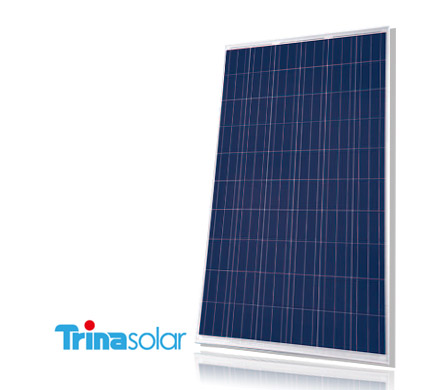 PV Solar Panels:
Trina Solar
Founded in 1997, Trina Solar is a vertically integrated PV manufacturer; producing ingots, wafers, cells and modules for home solar power and commercial scale solar energy systems. Selecting Trina Solar modules isn't just a quality purchase; it's a rock-solid investment.
Trina Solar is a leading global provider of solar solutions and has installed over 11 GW worldwide. Their solar panels are designed and manufactured to the highest quality standards. Trina's products have proven themselves on the field and in third party testing against other leading manufacturers.
Through their 25/30 years linear power warranties, panel output is guaranteed and will not decrease by more than 2.5% the first year and 0.7% for each year thereafter, and guarantees at least 90% performance by year 10.
Q.Cells – Engineering in Germany
Local Support. German Engineering. Guaranteed Quality.
Hanwha Q CELLS Australia is a vibrant company that strives to continuously provide not only the best modules, but also the best service to our customers.
They monitor over 30 testing sites throughout Australia, including two of their systems at the Desert Knowledge Centre in Alice Springs.
The modules are the fundamental components of a high-yield rooftop solar system. They're the components that convert light into electricity. Their efficiency levels dictate how much electricity they yield. Q CELLS modules are among the most efficient and most durable on the market. Our catalogue of products covers almost any conceivable requirement.
Q CELLS modules are the only modules on the market offering the Q CELLS Yield Security. This includes e.g. the Anti PID Technology against power loss caused by potential-induced degradation, Hot-Spot Protect for crystalline modules against Hot-Spots which might cause module fire as well as the Additional Power Boost for CIGS modules allowing for up to 15 % additional power after installation.
Hanwha Q CELLS draws on years of experience in the field. Their technicians ensure the best possible utilisation of your surfaces. Whether designing a system for your car park, installations parallel to a flat roof, facades or BIPV variants, Hanwha Q CELLS offers the optimal solution at affordable prices.